Chapter Successes to Celebrate and Learn From
Bellevue's 2023 SING! SING! Sing!
This is our annual gift to the local community.  We offer 6 weeks of free vocal instruction to those who have never sung before or have not sung our style of music before.  Our voice teacher shares the elements of a cappella though the medium of three songs.  At the end of the program the participants are given the opportunity join us on stage to sing the three songs as part of our Spring Show.  They were having a ball last night!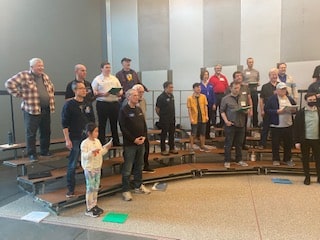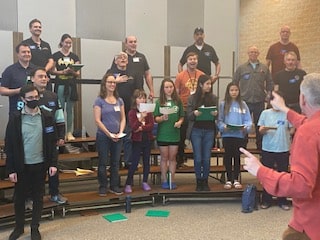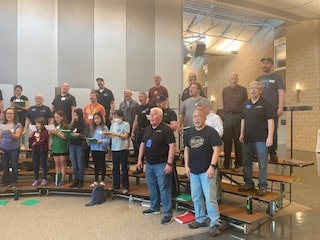 Acappella Road @ Rotary Event - reaching out to the community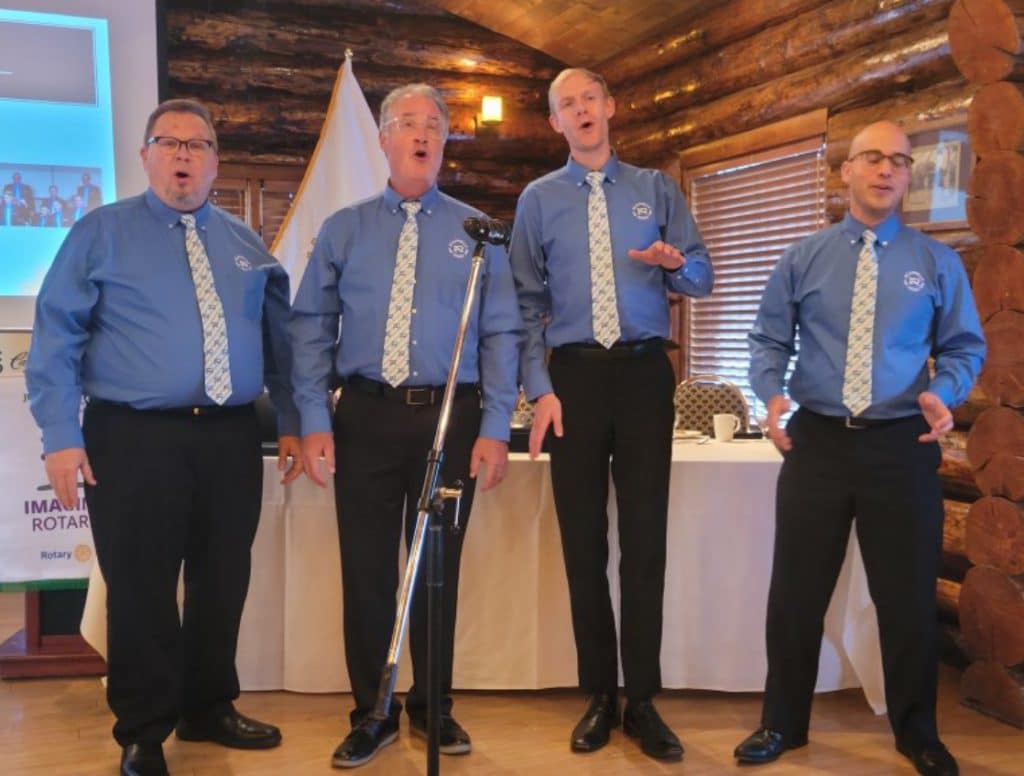 The Rotary Club of Calgary at Stampede Park graciously invited Acappella Road to join them at their Dec 1st luncheon meeting. We delivered a presentation focusing on educating the audience about Barbershop Harmony, future growth areas for the chorus, and Barbershop Harmony Society initiatives. The proceedings would not have been complete without singing; a quartet from the chorus capped the presentation with a short performance.
We are incredibly thankful for opportunities to share our music and values with other like-minded organizations in the Calgary area!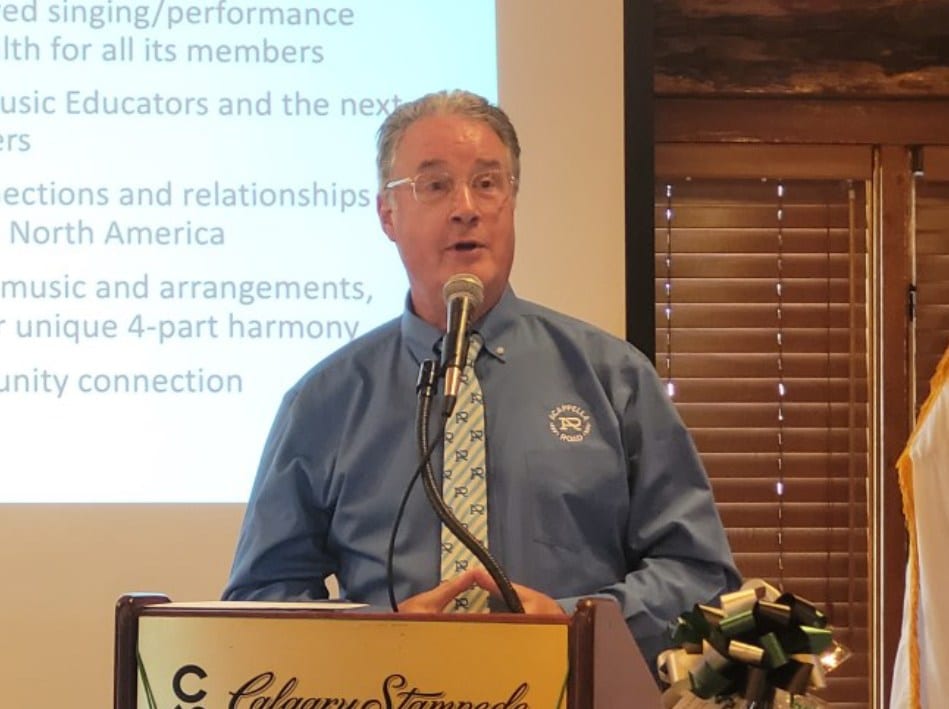 No live shows yet? Here's and Idea from Harmony Kings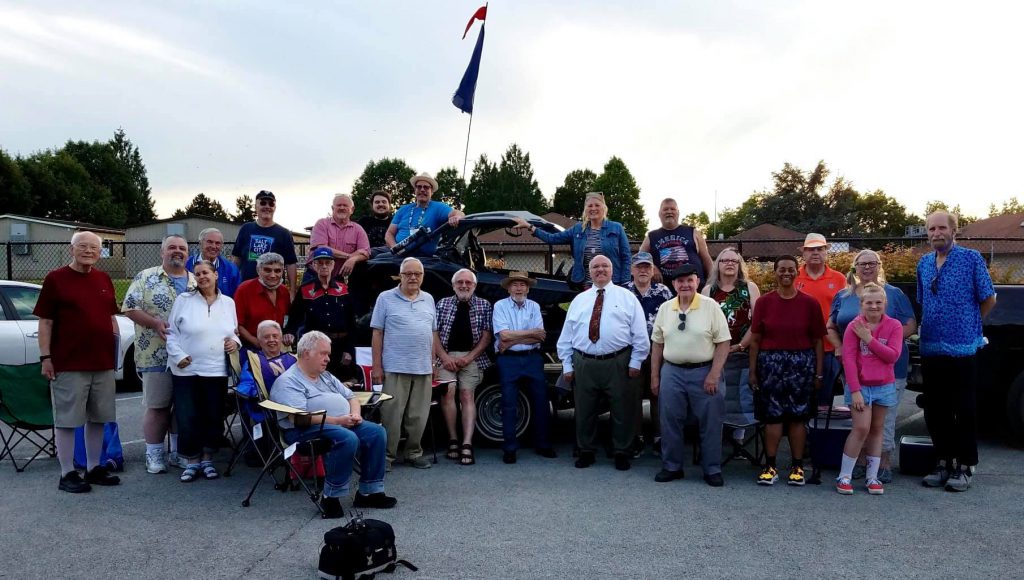 Since the invasion of COVID, live shows have pretty much come to a halt.
Here's an idea the Harmony Kings came up with to bring folks back to enjoy an evening of live music.
Friends & Family Night:  Not the usual guest night that barbershop choruses have at various time throughout the year.  This night was special.  Members of our chorus invited folks that usually attend our shows; maybe relatives, maybe advertisers, maybe members of various retirement centers where we have sung; pre – COVID. So, we invite them to attend one of our normal Tuesday night rehearsals. We set up the chairs in the space where we rehearse and the attendees get a favor of a Live Show, only a mini-version. Besides our chorus singing, we had several of our quartets add to the flavor. We had over 50 people show up and enjoy the evening.
It was met with great enthusiasm, and the Board decided to have another Friends and Family Night at least one more time in 2022.
Thank You Lanny Gleason for sharing…
National Night Out with the SeaChordsmen
The Seattle SeaChordsmen returned to their annual tradition of joining their local community for National Night Out.
After two years, National Night Out was back on, and so were the SeaChordsmen!
We split into two groups (one quartet and one VLQ), and canvassed the neighborhood singing some favorite songs.
We visited over a dozen block parties and sang to a few hundred of our neighbors, passing out our "Come Sing With Us" cards.
We hope we'll see some of these folks at an upcoming show or rehearsal!
We've already discussed breaking into more groups (and perhaps visiting more neighborhoods) next year, to maximize our reach. We want to be prepared with drinks and walkable routes. But the evening was a ton of fun and we counted it as a success!
Please check out our website for a couple more photos and some videos!  Click picture…
Thank you Tyler Bosma for sharing…
DOOR KNOCKING 101: pROMOTING YOUR CHORUS
For Canada Day, Stampede City Chorus created a video of us singing our National Anthem. After we finished it, we posted it on YouTube. Then we sent a link of the video to all our friends and relatives (and maybe even a few others).  We also posted it on our Facebook page and encouraged our members to do the same.
We also sent a YouTube link to our local radio and television stations using the 'community news' links they advertise.  Canada Day, July 1, came and went. Obviously, there was better news to be had that day…
Then, on July 6, one of our local TV stations, Global TV, emailed us to let us know that we would be featured on the "Good News" segment of their July 7 morning show!
Success!
Lesson learned: "You never know when the seed you plant will bear fruit, provided you keep watering it along the way."
Indeed, it's important to have some big events each year, but many times it's those little events along the way that make the difference in raising awareness of your chorus… if you aren't afraid to casually invite that conversation to whomever might listen.
Greg Verhappen, Stampede City Chorus, Calgary
You can also find this video and many more EVG videos by subscribing to our EVG YouTube channel. We've got some great talent in our District with some great history.
Thank you, Greg Verhappen for sharing…