Advertising is not marketing, but advertising is part of the marketing plan…
Introducing EVG Marketing Advisor
COMPLETE LOOK AT
CHAPTER MARKETING
Product, Price, Place, and Promotion are the four principles of marketing. What is your Product and what sets it apart from other entertainment organizations? How does Price encourage or discourage your audience? Place is how your customer will find you, both physically and emotionally. Once you've decided those three you can move to Promotion (advertising). Each activity of your Chapter will require a distinct set of P's.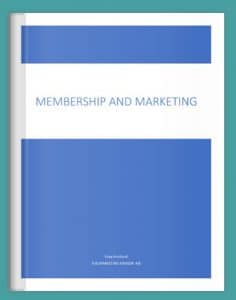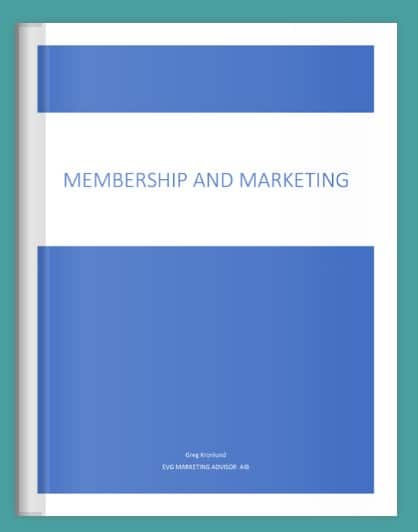 After two successful Marketing Zoom meetings, it has become clear there is concerns over marketing for new members and audience. The most pressing issue seems to be recruitment and retention in a pandemic world. Covid has cut deep into many chapters.
For a look at some of the membership ideas click on the M&M cover above — or CLICK HERE to download a pdf file.
MONTHLY MARKETING ARTICLES

Planning can happen anytime, but sooner is always better than later. Here are five thoughts you can start with anytime.
My suggestion is to make a pledge to get it done.
Understanding the 4-Ps fully, will help you build your marketing plans which will then make it easier to create the action plan. 
Keep in mind that advertising is NOT the beginning,  it
is a result of the first three Ps.

SWOT is a method of finding your Chapter's qualities that you can build upon. It is an unflinching look at your weaknesses, areas you can improve and opportunities you might miss.
We often find that we "don't see the forest for the trees", a SWOT will help you clear away the clutter. 
So, it's time for your annual show. If you have a summer show, now is the time to start making your plan of action.
Build your first three P's to guide you on the promotional side.
Work ahead of your event

The VP of Marketing and PR should be proactive. The VP M/PR is responsible to advise each "department" how best to approach their assigned activity.
Learn how to become a ship-builder in your chapter.

RANDOM ACTS OF HARMONY
Now's a great time to start taking our gift of music back out into our communities and surprise folks with spontaneous "Random Acts of Harmony" songs with at least four singers!  
THE PLAN:  At an appointed time, the singers randomly walk into a business to shop and just casually meet (maybe while standing in a check-out line – or around the vegetable bins) and start singing a fun, short song to the amazement of everyone around.  After the song is over, the singers pass out "RAH" cards (sample below) with their chapter contact information on the back and an invitation to come visit a chapter meeting.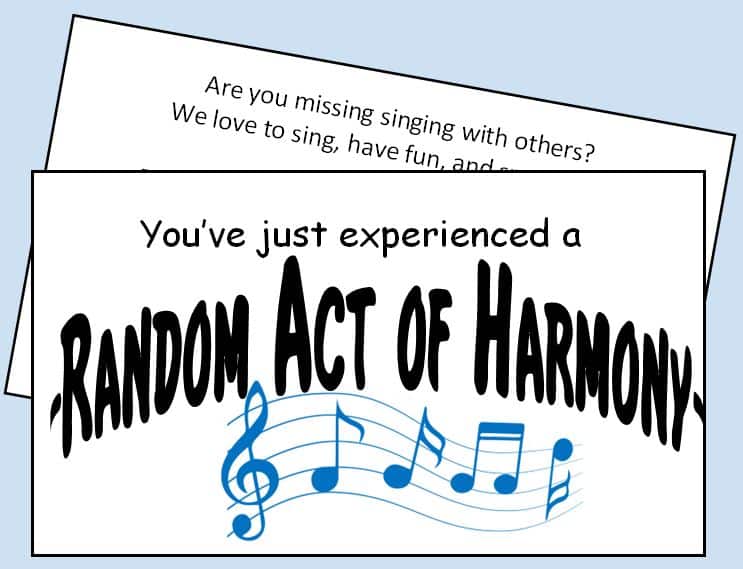 If your chapter would like to do some "Random Acts of Harmony," consider submitting an application to the Bud Leabo Memorial Fund to help with expenses.