2023 dISTRICT cONVENTION - oCTOBER 20-21, 2023
Open Invitation to District 2023

One of the outcomes of the pandemic is the reluctance of chapters to host Division conventions in 2023 due to the financial risk. The House of Delegates and Board recognize this issue and approved the suspension of Division contests in 2023.
As a result, as in 2022, there will be an Open Invitation to all quartets and choruses to compete in the 2023 District Convention.
Mark your calendars for October 20-21, 2023.
Location and venue to be announced.
2023 sPRING pRELIMS - SOMETIME IN aPRIL
Spring Quartet Prelims
The House of Delegates also approved a Spring Quartet Prelims for all quartets vying for a spot at International next year. The initial proposal is that both sessions of qualifying take place on a Saturday (morning and evening) with Harmony College Northwest education "Ted Talk" sessions during the afternoon.
If the quartet finals at District are an indication, Spring Prelims is a must-see event! The dates being explored are April 22 and 29, 2023. Location and venue to be announced.
Also being considered is that Senior Quartet Prelims be held at Spring Prelims instead of at the District Convention. This would allow qualifying Seniors Quartets a few more months to prepare for MidWinter.
Seniors Quartets, what do you think of that idea? Contact Events@evgdistrict.com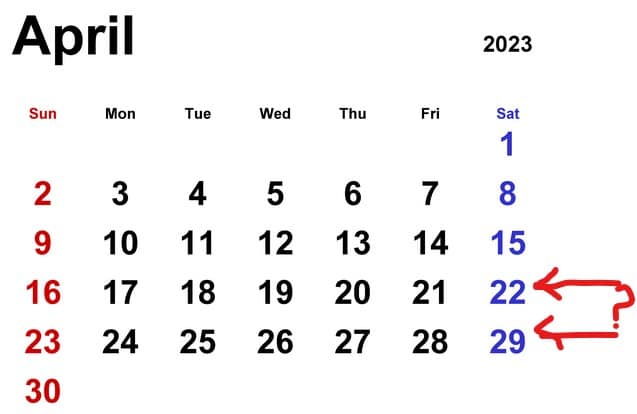 Other coming events in the Northwest or Western Canada
| | | | |
| --- | --- | --- | --- |
|   | 2023 | 2024 | 2025 |
| Passover | April 5-13 | April 22-30 | April 12-20 |
| Easter | April 7-9 | March 29-31 | April 18-20 |
| SAI Region 13 | May 18-21 | April 18-21 | April 25-27 |
| SAI Region 12 | May 4-7 | Apr 18-21 | May 15-18 |
| SAI Region 26 | May 11-14 | May 9-12 | May 2-4 |
| SAI Intl | Oct 30-Nov 4 | Not posted | Not posted |
| FWD Prelims | Not posted | Not posted | Not posted |
| FWD District | Oct 12-15 | Oct 17-20 | Not posted |
| CAN Thksgiv | Oct 7-9 | Oct 12-14 | Oct 11-13 |
| CAN Victoria | May 19-22 | May 17-20 | May 16-19 |
| Mem Day | May 26-29 | May 24-27 | May 23-26 |