2021 Evergreen District Barbershopper of the Year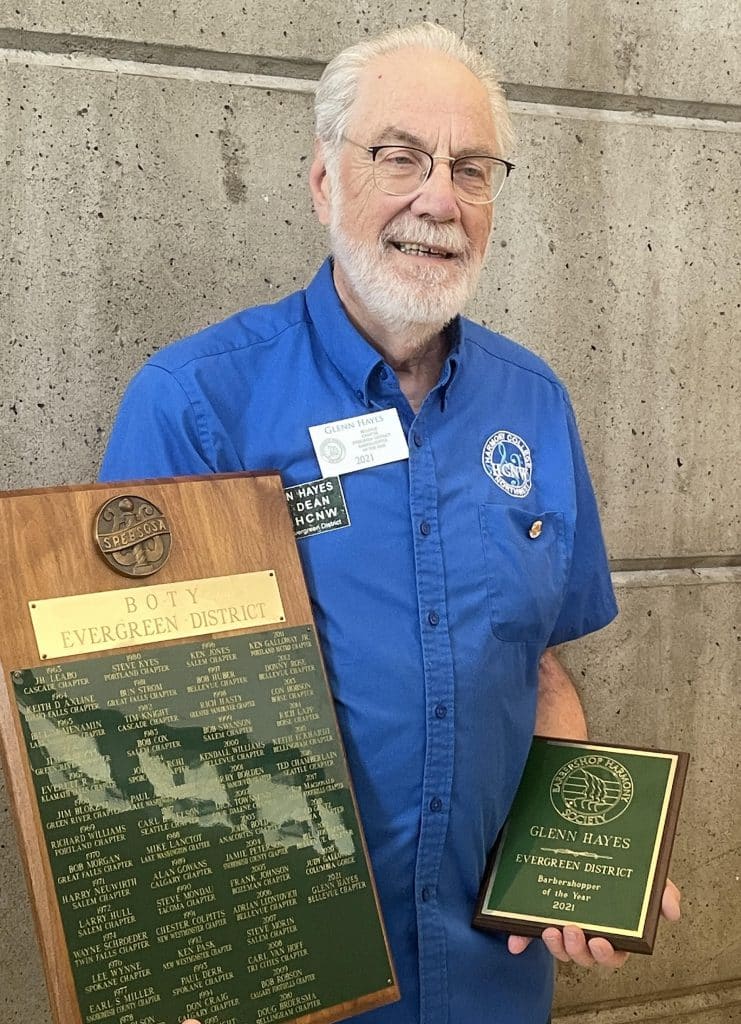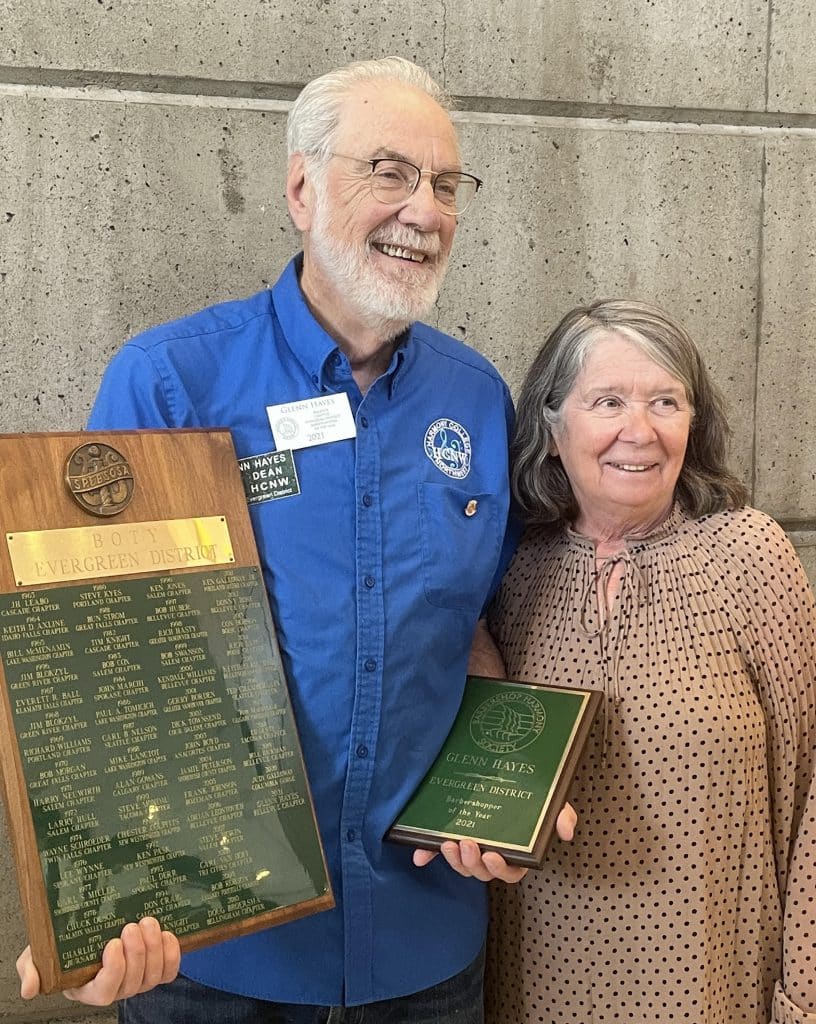 It is my honor to announce the 2021 Evergreen District Barbershopper of the Year – Glenn Hayes!
Glenn has given extraordinary service to the District by being the quintessential "Man Behind the Curtain."   In every organization there are those who stand out front accepting applause, but we all know the real work and those who give the longest unsung service are those who stand behind the curtains and make everything work.  Glenn is one of those.
In 2017, during our International Convention, Glenn accepted the challenge of joining the HCNW leadership.  For one year, he shadowed Carl Van Hoff who was HCNW's co-dean that year along with Nancy Kurth.  In 2018, Glenn and Nancy shared the co-dean role.  In this role, Glenn has been instrumental in continuing the growth of this educational experience, which is one of the best in the barbershop world. Using his professional background, Glenn has been instrumental in the creation of both a business plan and a strategic plan for Harmony College Northwest.  
In 2018, Glenn joined the Evergreen District board as a VP representing HCNW.  Since then, he has been working behind the scenes to meet the growing technical needs of the District.   When the Covid pandemic started in 2020, HCNW had to shift gears.  Glenn researched and tested numerous virtual options looking for ways to continue providing education to as many singers as possible within the Evergreen District.  In June of 2021, the results of his work became apparent with the first virtual HCNW 2-day schedule that attracted students from around the world to join in over 36 Zoom sessions.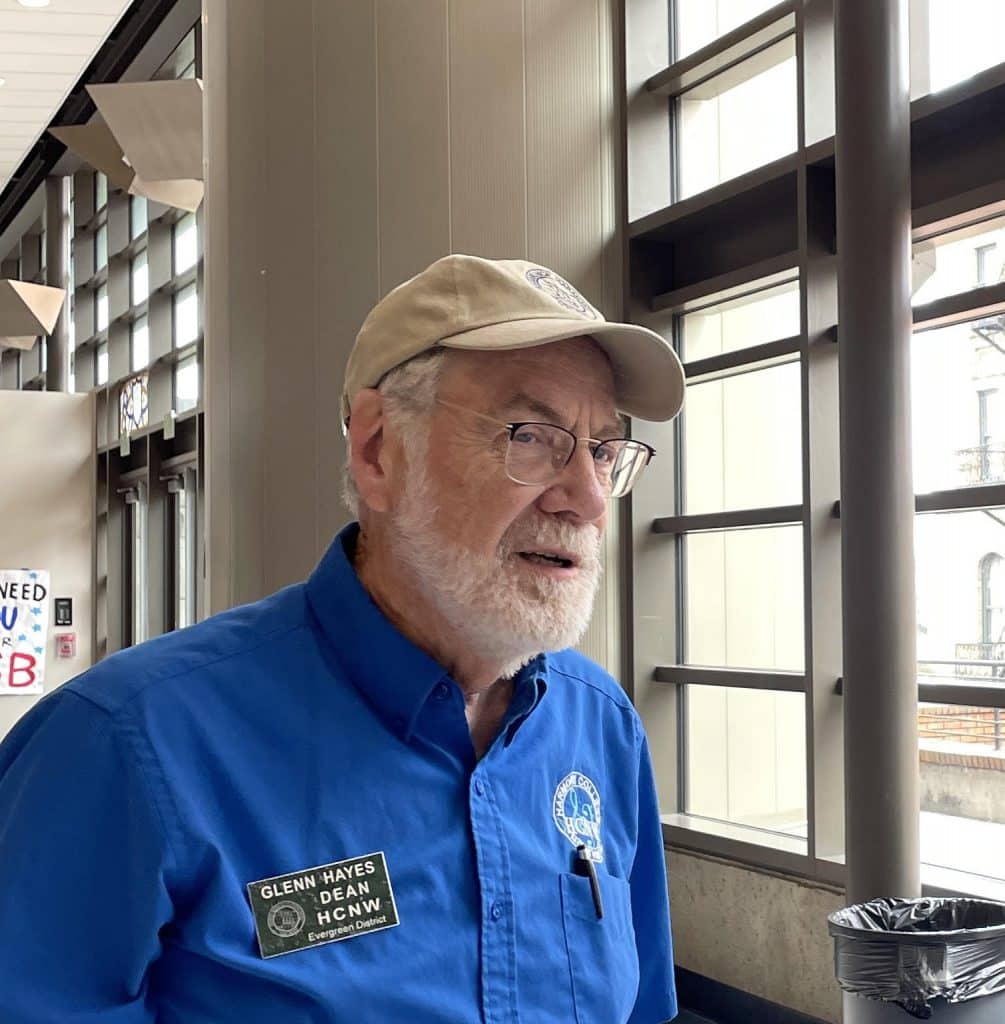 Throughout, 2021, Glenn was a critical resource for moving to the new design and platform for our EVGDistrict.com website. He also has developed the storage and backup plans for important EVG legal documents, HCNW files, and the wide variety of files, photos, and videos, being gathered for and stored in the EVG VAULT documenting the last 75+ years of Evergreen's history.  
Through all of this Glenn has continued singing with Bellevue's Northwest Sound Men's Chorus.  Driving 5 hours one way, Glenn has routinely participated in contests, concerts, and chapter activities.  What a guy!
Please join me in congratulating our 2021 Barbershopper of the Year – Glenn Hayes!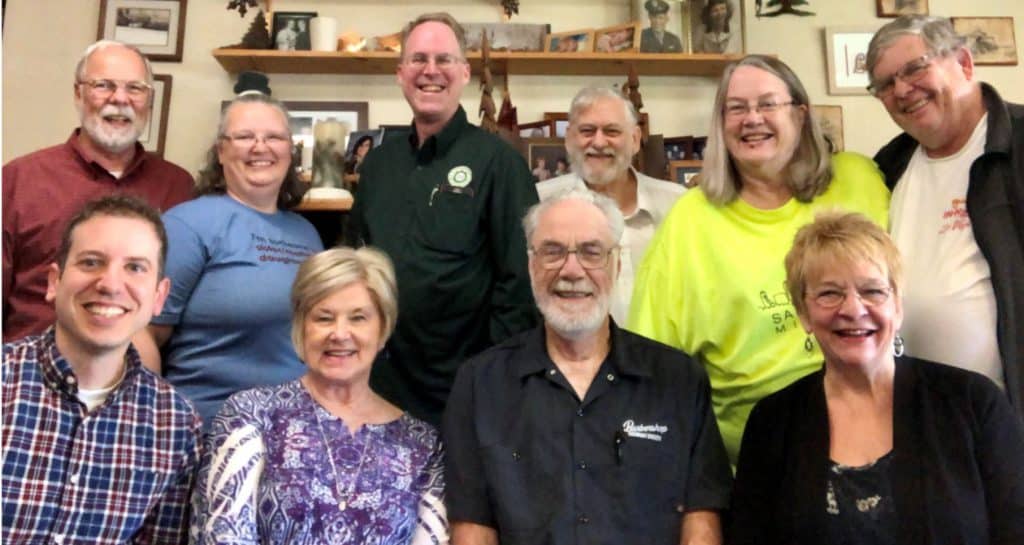 | | |
| --- | --- |
| 2021 | Glenn Hayes, Bellevue |
| 2020 | Judy Galloway, Hood River |
| 2019 | Bill Hickman, Bellevue |
| 2018 | Ed Gentz, Tacoma |
| 2017 | Rob Macdonald, Calgary |
| 2016 | Ted Chamberlain |
| 2015 | Keith Eckhardt, Bellingham |
| 2014 | Rich Lapp, Boise |
| 2013 | Con Hobson, Boise |
| 2012 | Don Rose, Bellevue |
| 2011 | Ken Galloway, Tualatin Valley |
| 2010 | Doug Broersma, Bellingham |
| 2009 | Bob Robson, Calgary Foothills |
| 2008 | Carl Van Hoff, Tri Cities |
| 2007 | Steve Morin, Salem |
| 2006 | Adrian Leontovich, Bellevue |
| 2005 | Frank Johnson, Bozeman |
| 2004 | Jamie Peterson, Bellevue |
| 2003 | John Boyd, Anacortes |
| 2002 | Dick Townsend, Spokane |
| 2001 | Gerry Borden, Greater Vancouver |
| 2000 | Kendall Williams, Bellevue |
| 1999 | Bob Swanson, Frank Thorne |
| 1998 | Rich Hasty, Vancouver, BC |
| 1997 | Bobby Huber, Bellevue |
| 1996 | Ken Jones, Frank Thorne |
| 1995 | Mel Knight, Salem |
| 1994 | Don Craig, Medicine Hat |
| 1993 | Paul Derr |
| | |
| --- | --- |
| 1992 | Ken Pask, Frank Thorne |
| 1991 | Chester Colpitts, Greater Vancouver |
| 1990 | Steve Mondau, Tacoma |
| 1989 | Alan Gowans, Medicine Hat |
| 1988 | Mike Lanctot, Bellevue |
| 1987 | Carl B. Nelson, Seattle |
| 1986 | Paul Tomicich, Bellevue |
| 1984 | John Marchi, Frank Thorne |
| 1983 | Bob Cox, Salem |
| 1982 | Tim Knight, Eugene |
| 1981 | Bun Strom, Great Falls |
| 1980 | Stephen Kyes, Portland Metro |
| 1979 | Charles Metzger, Greater Vancouver |
| 1978 | Chuck Olson, Tualatin Valley |
| 1977 | Earl Miller, Lebanon |
| 1976 | Lee Wynne, Spokane |
| 1975 | Wayne Schroeder |
| 1974 | None Awarded |
| 1973 | Larry Hull |
| 1972 | Harry Neuwirth |
| 1971 | Bob Morgan, Great Falls |
| 1970 | Richard Williams |
| 1969 | Jim Blokzyl, Federal Way |
| 1968 | Everett Ball |
| 1967 | Jim Blokzyl, Seattle |
| 1966 | Bill McMenamin |
| 1965 | Keith Axline |
| 1964 | J.H. "Bud Leabo |