Communications Team & Publications
Evergreen District's Communication Team is like a two-way street – sharing Individual, Chapter and District news back and forth throughout the District. 
Our goal is to be the COMMUNICATION HUB, connecting/sharing great ideas with others who are looking for ideas — and also serving as a HELP DESK for finding answers to questions that pop up in our barbershop worlds.
If you or your chapter have something to share with others in the District, please email Bob Robson and he will take it from there, or connect you with one of our District leaders. 
Chapter activities and projects are currently being featured via our news channels but also posted on our Marketing and Membership webpages for others to read and possibly get ideas from.
If you have any questions, contact Sid Brown.
COMMUNICATIONS TEAM MEMBERS
Sid Brown – Director of Communications (communications@evgdistrict.com)

NEWS:

   Timbre:  Bob Robson, Doug Gardner
   Greensheet:  David Dobson / Laura Pennington
   Chapter Leader News:  Chris Powell – District Secretary
   Facebook:  Duncan Gilman  

EVERGREEN DISTRICT PUBLICATIONS
GREENSHEET contains information about coming show, events, and activites.  It is emailed monthly to all members* of the Evergreen District.
CHAPTER LEADER NEWS is emailed monthly and contains tips and reminders for our Chapter Leaders* and Directors* in the Evergreen District.
TIMBRE is published quarterly for all of Evergreen's members to enjoy reahding.  It is pubished: 3/1, 6/1, 9/1, and 12/1
*We pull the most current member information from the BHS Member Center.  If you are not receiving any of the above publications, first check your spam/junk folders to see if your email program set them aside. If that doesn't work, login to the Member Center and update your contact information.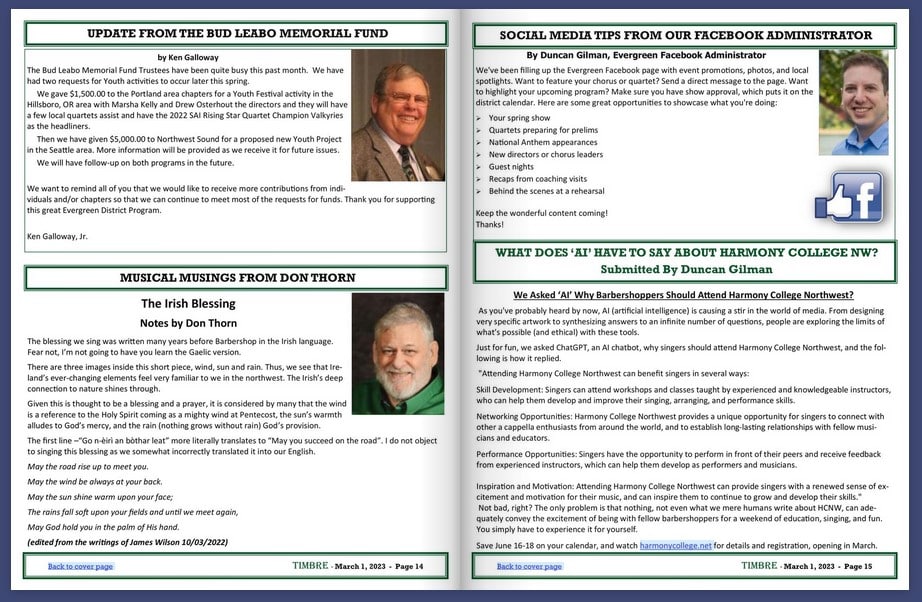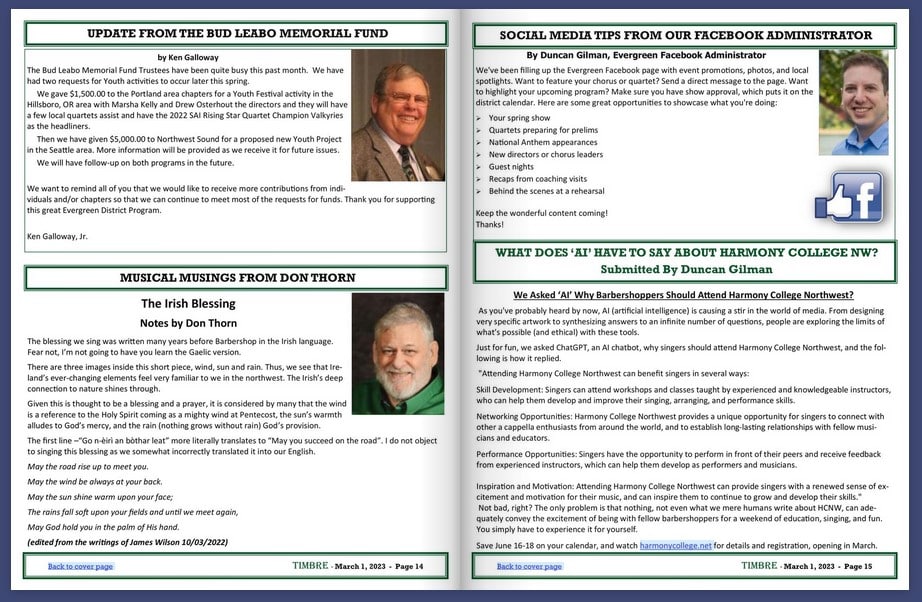 The Timbre is the oldest of the three Evergreen publications. Now in its 75th year; became an online publication in 2012.
Published quarterly on March 1, June 1, September 1 and December 1.
Circulation and Distribution: To all Evergreen Members; via an email link. Also, past copies are available in the EVG VAULT.
The main purposes are:
Share messages from the District Leadership Team
Share results of District sponsored events and activities
Share news and stories from Evergreen Chapters and individual members
Slogan: With One Voice
Questions? Comments?  Suggestions?  Contact the Timbre Editorial Team:
Content:
Bob Robson – 403-286-3357 
communications
Layout:
Allen Crowley – 403-257-0516  Timbre Co-Editor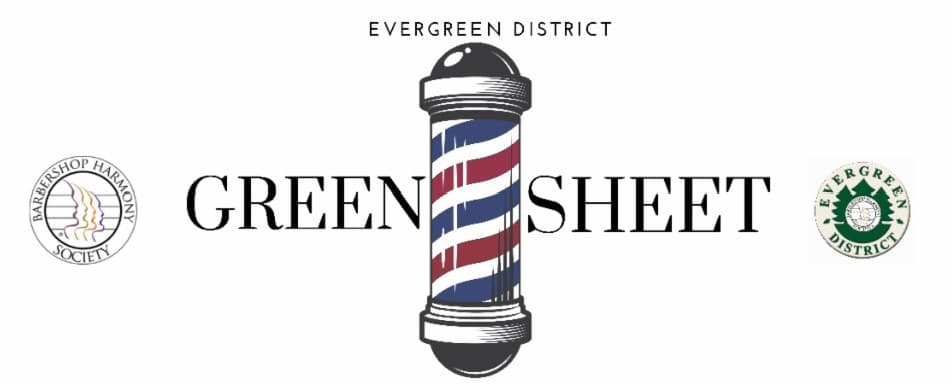 GreenSheet issues are published at least once each month by David Dobson.
Recent Issues
Started in about 2012 – then under the name The Green Line
Published monthly, on or about the first of the month
Circulation and Distribution: To all Evergreen members; via email
The main purposes are:
Primarily event driven – both District events (conventions and educational events) and chapter events (mainly chapter shows)
Also serves to make important announcements (appointments, messages from District leaders)
Slogan:
What's Happening in
Evergreen District

Our District Secretary sends this out to our Chapter and District leaders with timely information and tips. 
Recent Issues
Started in October of 2021, this information is published monthly, on the 15th of each month.
Circulation and Distribution: To all Chapter and District Leaders; via email
The main purposes are:
Provide the District Board members a monthly platform to communicate with chapter presidents, secretaries, and treasurers.
Remind chapters of
important tasks that need to be done to keep chapters compliant and moving forward.
Slogan 
Building Relationships Between Chapters and the Evergreen District 
1941 – Present
BHS has a digitized collection of all Harmonizers available for your viewing starting from 1941 to present!!
"Related Articles" on the right side of the webpage has links to the many years (grouped) and then view issues below.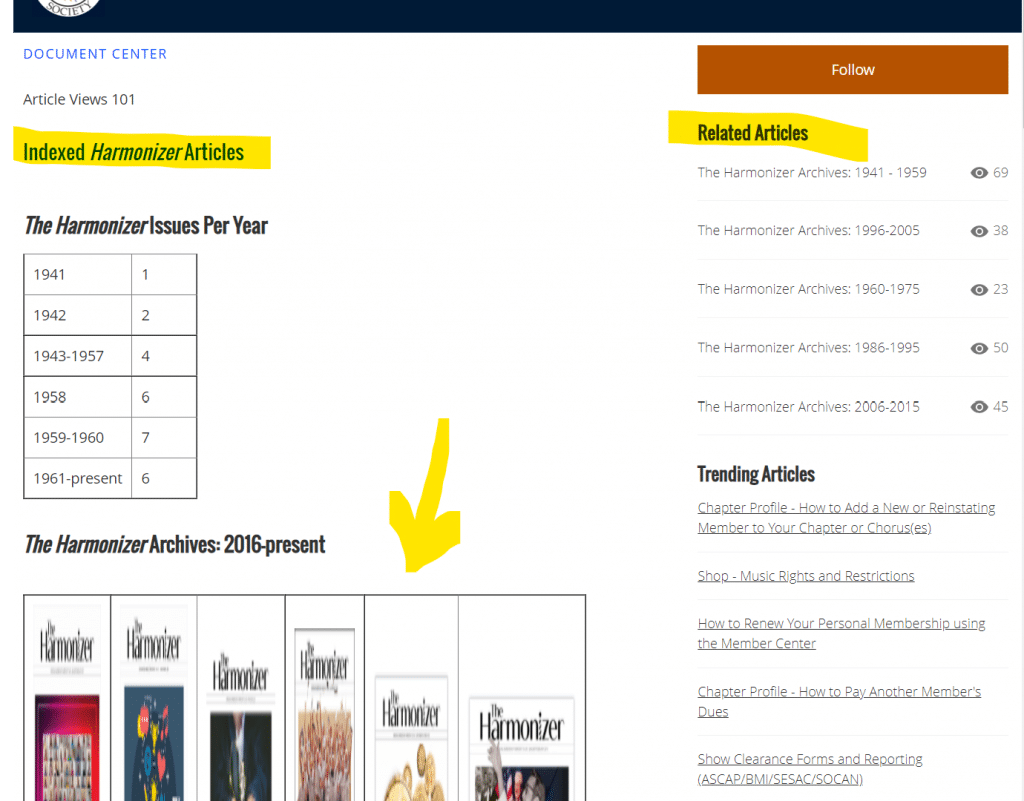 SPEED SEARCH: Click on the Indexed Harmonizer Articles link to open spreadsheets with almost 100,000 articles that have appeared in the Harmonizers over the years. "Find" your favorite group or person and the list will give you the year, month of publication, and the page number so you can go view the article in the archived issues.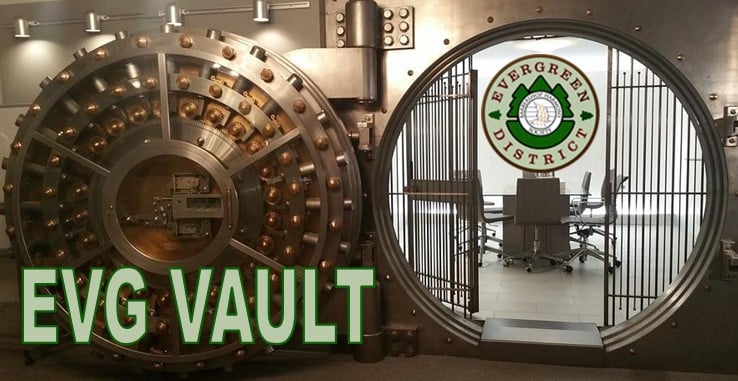 Do you have questions about EVG's past – our singers, our chapters, our leaders, our scores, our stories?
If you like exploring, you'll love EVG's VAULT which is like a library holding wonderful EVG information and photos that's been stored since the early 1940's.
There will be more historical photos and information added, as it gets processed.
Click HERE to go to EVG's VAULT
ID:    EVGreader
PW:    EVG2022!