2022 District Quartet Champions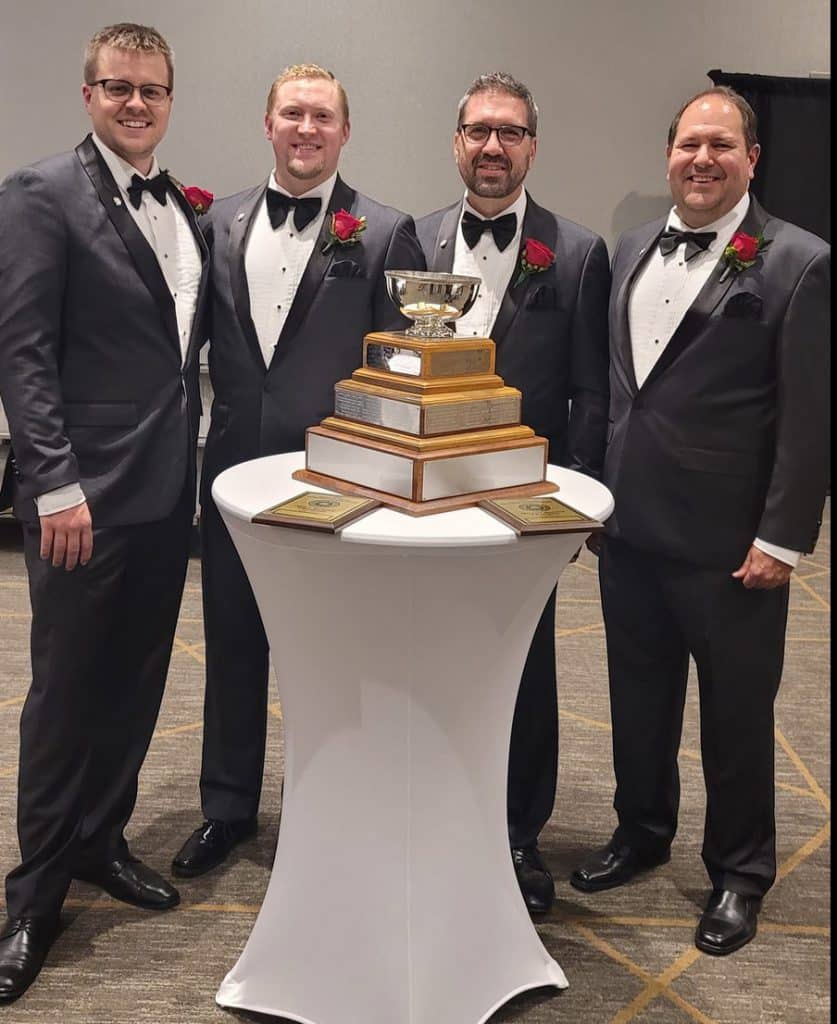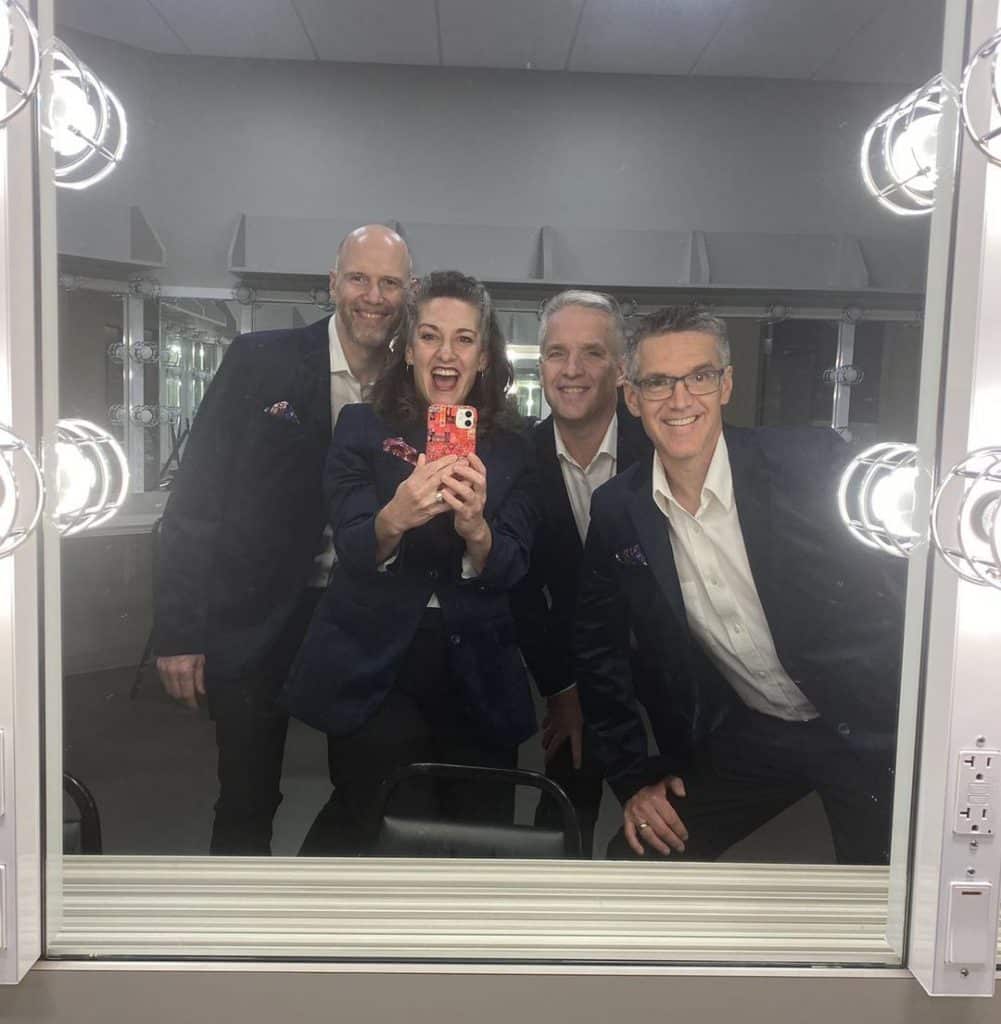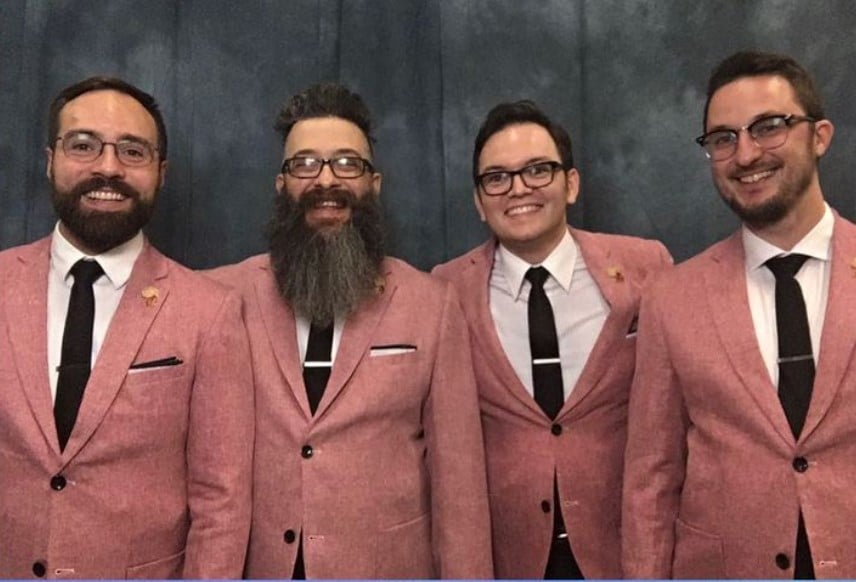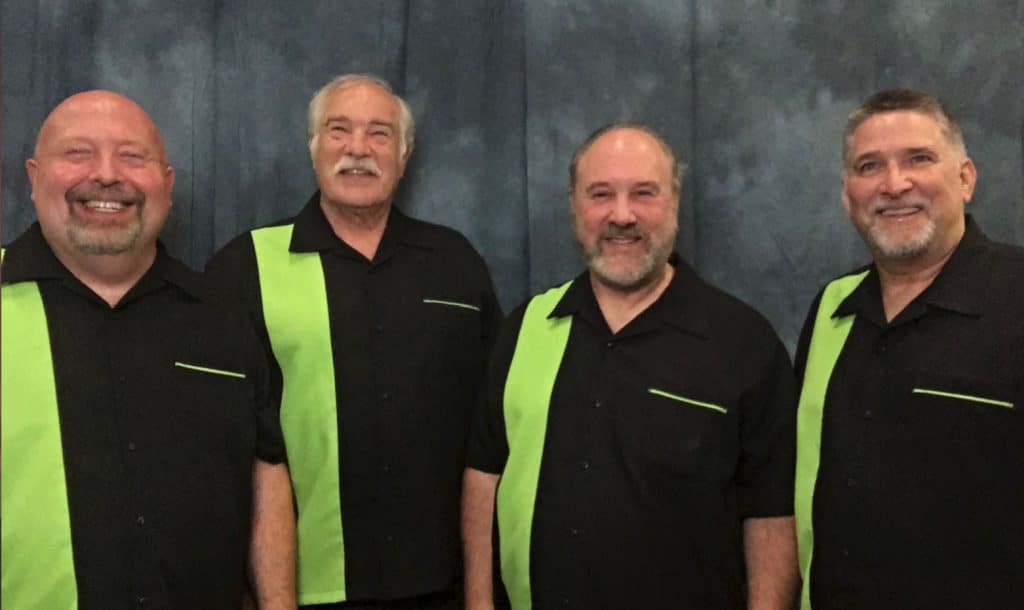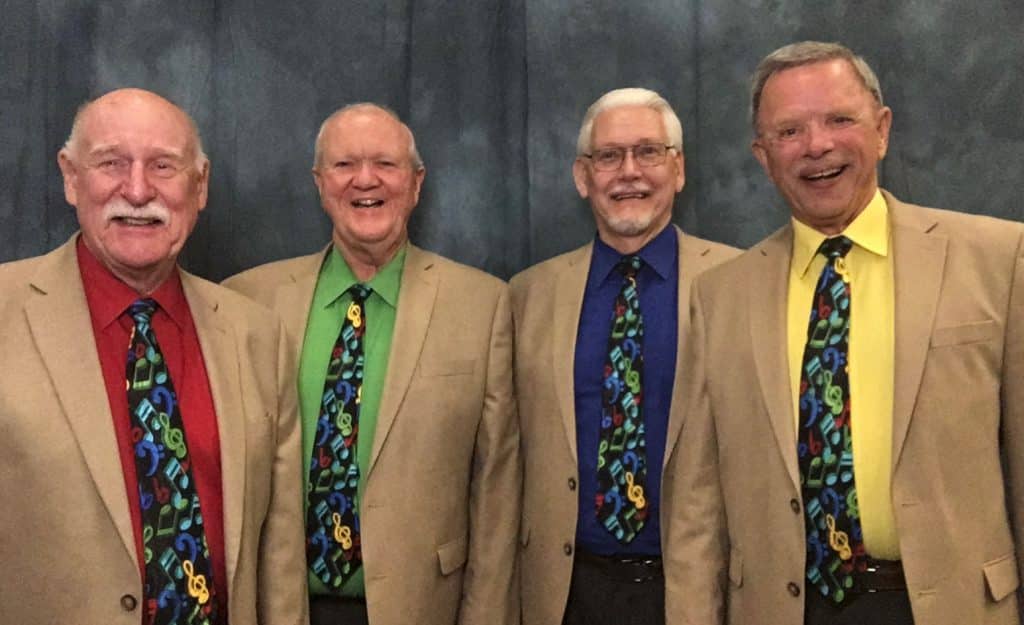 Learn more about our past quartet champions - visit QCED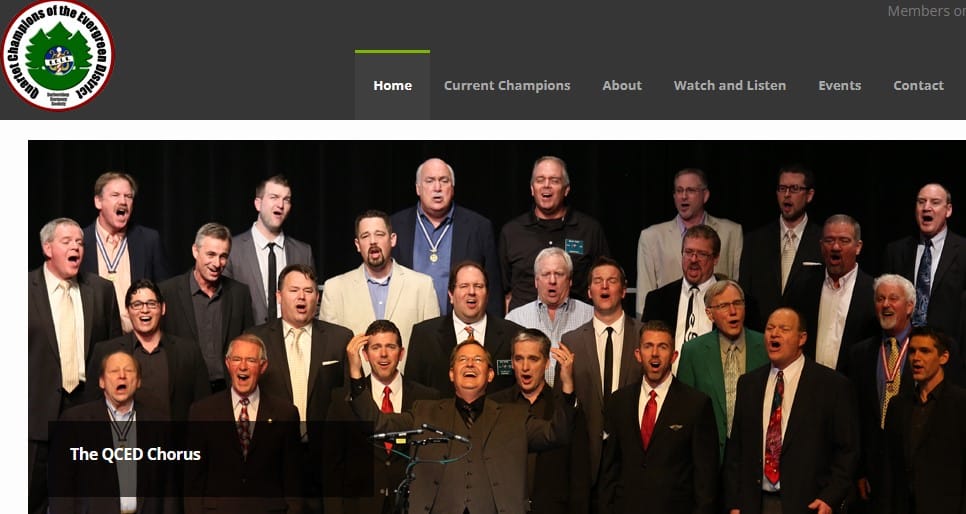 QCED (Quartet Champions of Evergreen District) is a fraternity of past quartet champions from the Evergreen District of the Barbershop Harmony Society.
The Evergreen District encompasses Alaska, Idaho, Montana, Oregon, and Washington; as well as Alberta and British Columbia, Canada. Annually, the District holds a competition among its quartets and those who win the District Championship are inducted into QCED. 
QCED also hosts one shows a year at the Ocean Shores Convention Center.. The proceeds are used to support coaching opportunities for quartets in out-lying areas around the District and assist our quartets who will be singing at the BHS International competition.
Past District Quartet ChampionS
| | | | | | | | | |
| --- | --- | --- | --- | --- | --- | --- | --- | --- |
| YEAR | District Location | District Champions /Intl Champs | Other District Titles | Tenor | Lead | Baritone | Bass | Chapter/Town |
|   |   |   |   |   |   |   |   |   |
| 2022 | Federal Way, WA | Metzin' Around | Dist. Mixed Harmony | Donya Metzger | Phil Grant | Mark Metzger | Tom Metzger | Vancouver, BC |
| 2022 | Federal Way, WA | InVoice |   | Jake Yoakum | Paul Carter | Dean Waters | Kevin Stinson | Portland, OR |
| 2021 | n/a | NO CONTEST / COVID  |   |   |   |   |   |   |
| 2020 | n/a | NO CONTEST / COVID  |   |   |   |   |   |   |
| 2019 | Spokane, WA | Rag Tag |   | Matthew Hart | Ian Kelly | Gus Curry | Tyler Rands | Boise, ID |
| 2019 | Spokane, WA | Mugshot | Dist. Mixed Harmony | Maria Burri-Ketchum | Katie Roman | Rob Roman | Ben McGowan | Portland, OR |
| 2018 | Spokane, WA | Momma's Boys |   | Steven Kelly | Ian Kelly | Sean Kelly | Michael Kelly | Bellevue, WA |
| 2017 | Vancouver, WA | Marksmen |   | Joseph Livesly | Mark Metzger | Josh Honrud | Brian Hamm |   |
| 2016 | Vancouver, WA | Flipside |   | Mike McCormic | Paul Carter | Tim McCormic | Kevin Stinson | Portland |
| 2015 | Spokane, WA | 4.0   (four point O) |   | Ted Chamberlain | Gavin Jensen | Ira Allen | Tyson Jensen |   |
| 2014 | Surrey, BC | Madison Park |   | Wes Yoder | Don Rose | Jeremiah Pope | Brian Hamm |   |
| 2013 | Boise, ID | Via Voice |   | Joseph Livesly | Doug Broersma | Mark Metzger | Tom Metzger | Vancouver, BC |
| 2012 | Spokane, WA | Momentum |   | Gary Steinkamp | Tim Reynolds | Tim McCormic | Kevin Stinson | Portland, OR |
| 2011 | Spokane, WA | Quadraphonics |   | Ken Potter | Dean Waters | Bryan Jones | Steve Morin | Salem |
| 2010 | Portland, OR | The New Originals |   | James Schofield | Ted Stiers | Josh Honrud | Turner Stiers | Mount Baker / Western Washington |
| 2009 | Whistler, BC | Fast Track |   | Mike Menefee | Dan Hofkamp | Don Rose | Adrian Leontovich | Bellevue / Kitsap |
| 2008 | Boise, ID | 3 Outa 4 |   | Duane Christensen | Eric Christensen | Ian Christensen | Lowell Smith | Salem |
| 2007 Intl Srs |   | Friendly Advice |   | Dan Tangarone | Wes Sorstokke | Bill Thurman | Forrest Lamotte | Bellevue, WA |
| 2007 | Bellevue, WA | Jet Set |   | Wes Yoder | Tim Marron | Jeremiah Pope | Mike Marron | Pierce County |
| 2006 Intl Srs |   | Antique Gold |   | Tom Bates | George Wakeham | Charlie Metzger | George Metzger |   |
| 2006 | Spokane, WA | Dean's List |   | Darwin Scheel | Dean Waters | Paul Olguin | T. J. Weiss | Portland |
| 2005 Intl Champs |   | Realtime |   | Tim Broersma | John Newell | Mark Metzger | Tom Metzger | Vancouver, BC |
| 2005 | Calgary, AB | Vocal Magic |   | Mike Menefee | Don Rose | Jeremiah Pope | Ted Chamberlain | Pierce County |
| 2004 | Surrey, BC | Realtime |   | Tim Broersma | John Newell | Mark Metzger | Tom Metzger | Vancouver, BC |
| 2003 | Spokane, WA | Friendly Advice |   | Dan Tangarone | Wes Sorstokke | Bill Thurman | Forrest Lamotte | Bellevue, WA |
| 2002 | Anchorage, AK | Rivalry |   | Ted Stiers | Turner Stiers | George Nowik | Adrian Leontowich | Bellevue, WA |
| 2001 | Surrey, BC | Flashpoint |   | Wes Yoder | Tim Marron | Ira Allen | Jim Wright | Pierce County |
| 2000 Intl Srs |   | Over Time |   | Jim Richards | Jerry Harrison | Mel Knight | Bud Roberts |   |
| 2000 | Portland, OR | Sold Out |   | Brian Sell | Lead: Eric Christensen | Ian Christensen | Ben McGowan | Salem |
| 1999 | Spokane, WA | Reunion |   | Wes Yoder | Bob Swanson | Chuck Landback | Forrest LeMotte | Salem / Bellevue |
| 1998 | Eugene, OR | Studio One |   | Dave Warkentin | Doug Broersma | Rich Hasty | John Rae-Grant | Greater Vancouver |
| 1997 | Tacoma, Wa | Counterpoint |   | Marty Lovick | Mark Metzger | Charlie Metzger | Tom Metzger | New Westminster |
| 1996 Intl Srs |   | Fatherly Advice |   | Dan Tangarone | Dick Bek | Bill Thurman | Burt Staffen |   |
| 1996 | Portland, OR | Critics' Choice |   | Matt Yorkson | Wes Sorstokke | Chuck Landback | Stan Boon | Anacortes / Bellevue / Mount Baker |
| 1995 | Spokane, WA | Extra! Extra! |   | Mike Langthorpe | Bob Swanson | Roger Haag | Forrest LaMotte | Bellevue / Olympia / Frank Thorne |
| 1994 | Tacoma, Wa | The Edge |   | Ed Dempsey | Dave Warkentin | Mark Metzger | Tom Metzger | Langley |
| 1993 | Spokane, WA | Milky Way |   | Tim Broersma | Doug Broersma | Charlie Boon | Stan Boon | Anacortes / Mount Baker |
| 1992 | Eugene, OR | Seattle Sound |   | Steve Barclay | Neal Booth | Bobby Gray Jr. | Matt Rice | Bellevue |
| 1991 | Calgary, AB, Canada | Heyday |   | Paul Krenz | Bob Swanson | Matt Campbell | Clay Campbell | West Portland / Frank Thorne |
| 1990 | Spokane, WA | Sonic Boom |   | David Cotton | Dave Vincent | Mark Metzger | Tom Metzger | New Westminster / Vancouver |
| 1989 | Portland, OR | Vocal Attraction |   | Ralph Scheving | Lead: Doug Broersma | Ted Chamberlain | Stu Turner | Bellevue / Lake Washignton / Mount Baker |
| 1988 | Spokane, WA | Four Cryin' Out Loud |   | Paul Krenz | Darwin Scheel | Joe Eckstine | Steve Morin | Portland / West Portland |
| 1987 Intl Srs. |   | The Close Harmony Tradition |   | Richard Merritt | Chuck Benson | Bob Mahony | Warren Mitchell |   |
| 1987 | Eugene, OR | Easy Street |   | Bob Hodge | Neal Booth | Steve Barclay | Forrest LaMotte | Bellevue/Tacoma |
| 1986 | Calgary, AB, Canada | Northwest Spirit |   | Dan Tangarone | Wes Sorstokke | Chuck Landback | Tom Wilkie | Bellevue |
| 1985 Honorary QCED |   | The Aliens |   | Jim Richards | Bob Wiggins | Chuck Olson | Jay Thornberry | Oregon |
| 1985 | Portland, OR | Golden Heritage |   | Paul Krenz | Mike McCormic | Tim McCormic | Lowell Smith | West Portland |
| 1984 | Spokane, WA | Harmonic Tremors |   | Ralph Scheving | Doug Broersma | Matt Campbell | Clay Campbell | Anacortes/Kitsap County / Lake Washington / Mount Baker |
| 1983 | Eugene, OR | Pacific Pride |   | Dan Tangarone | Bob Swanson | Chuck Landback | Bud Roberts | Portland/Lake Washington |
| 1982 | Portland, OR | Cascade Connection |   | Jim DeBusman | Jerry Harrison | Mel Knight | Reid Stewart | Eugene |
| 1981 | Vancouver, BC, Canada | The High Rollers |   | Keith Dodson | Mike McCormic | Tim McCormic | Dick McCormic | Portland |
| 1980 | Seattle, WA | South Sounders |   | Glenn Barnhart | Neal Booth | Bill Thurman | Tom Wilkie | Tacoma |
| 1979 | Calgary, AB, Canada | The University Way |   | Ralph Scheving | John Lee  Whitener | Ron Carlson | Dan Cornelissen | Seattle |
| 1978 | Spokane, WA | The New Rendition |   | Gordie Smith | Richard  Conner | Joe Cordell | Forrest LaMotte | Lake Washington / Sno-King / Snohomish County |
| 1977 Intl Champs |   | The Most Happy Fellows |   | Bob Hodge | Larry  Hassler | Jack Lyon | Ken Hawkinson | Tacoma |
| 1977 | Portland, OR | The Four Cheers |   | Dean Voss | Bob  Swanson | Vern Emra | Bud Roberts | Portland |
| 1976 | Spokane, WA | Commencement Bay Flounders and Seafood Conspiracy |   | Bill Dergan | Harry Aldrich | Bruce Foreman | James R. McLees | Tacoma |
| 1975 | Portland, OR | Lion's Share |   | Denny Stiers | Dick  Clark | Bruce Bryant | Stu Turner | Lake Washington |
| 1974 | Spokane, WA | The Bright Side |   | Bob Lorenz | Bob  Swanson | Gene Haworth | Bud Roberts | Portland |
| 1973 | Edmonton, AB, Canada | New Found Sound |   | Dan Tangarone | Chuck  Landback | Jack Lyon | Loren Watson | Lake Washington |
| 1972 | Seattle, WA | Artesians |   | Dick Fankhauser | Roger  Haag | Jack Anderson | Ken Bourn | Olympia |
| 1971 | Vancouver, BC Canada | The Most Happy Fellows |   | Bob Hodge | Larry  Hassler | Bill Thurmon | Ken Hawkinson | Tacoma |
| 1970 | Calgary, AB, Canada | The Poets |   | Steve Kurtz | Dick  Clark | Ray Heller | Ron Forsyth | Anacortes / Mount Baker |
| 1969 | Portland, OR | Westernaires |   | Denny Stiers  ?? Bob Jones | Bill  Michalak | Skip Daniels | Art Russell | Bellevue |
| 1968 | Spokane, WA | The Howe Sounds |   | Barry Shields | Moe  Jones | Al Hayward | Don West | Vancouver, BC |
| 1967 | Salem, OR | The Nomads |   | Dick Roth | Chuck  Christopherson | Larry Gordon | Jim Hickey | Coos Bay / Fort Vancouver |
| 1966 | Vancouver, BC, Canada | Bay Shore Four |   | Gary Larson | Jerry  Harrison | John Anderson | Ray Greaves | Coos Bay |
| 1965 | Portland, OR | The Squires Four |   | Dick McCormic | Dave  Wagoner | Dan Tangarone | Jim Miesen | Portland |
| 1964 | Seattle, WA | Ambassadors |   | Gene Haworth | Jack  Lyon | Dr. Al Parker | Wes Stumpf | Spokane |
| 1963 | Spokane, WA | The Roaring 24 |   | Jim Asp | Jack  Nickell | Dick Dybvad | Larry Adolfson | Bellevue |
| 1962 | Portland, OR | Journeymen  |   | Denny Stiers | Alan  Koberstein | Terry Shannon | Curt Roth | Eugene |
| 1961 | Bellingham, WA | NorthernAires |   | Gordon Ness | Arne  Dahl | Rudy Magneson | Ross Gould | Camrose |
| 1960 | Eugene, OR | Capital Chordsmen |   | Dick Roth | Lloyd  Griffiths | Dick McClintic | Al Smith | Salem |
| 1959 | Vancouver, BC Canada | Sema Four |   | Loren Watson | Dale  Brown | Gene Haworth | Dave Little | Seattle |
| 1958 | Portland, OR | Timbre Fellers |   | Paul Helton | Jack  Rendle | Robert Rychard | Larry Adolfson | Bellevue |
| 1957 | Seattle, WA | FourDoMatics |   | Clayton Lacey | Jim  Iddings | Merv Clements | Dell Green | Seattle |
| 1956 | Vancouver, BC Canada | School Masters |   | Walter Venema | Roderick  Stubbs | Orv Nyland | Bill Saas | Seattle |
| 1955 | Portland, OR | Model T Four |   | Charlie Pullham | Earl  Cousins | Don Franks | Gordie Cousins | Vancouver |
| 1954 | Everett, WA | Sharp Four |   | Bob Huffman | Ron Lodge | Jerry Holloway | Wilson Barber | Eugene |
| 1953 | Portland, OR | Varsitones (?Varsitunes) |   | Clyde Hobbs | Jim  Iddings | Merv Clements | James R. McLees | Seattle |
| 1952 | Portland, OR | Evergreen Quartet |   | Bill Gable | Jim  St. Mary | Bob St. Mary | Don St. Mary | Yakima |
| 1951 | Bellingham, WA | Puget Sounders |   | Frank Hawthorne | Bill  Judkins | Fred Cornwell | Houstie Allen | Enumclaw, Auburn |
| 1950 | Portland, OR | Lumber Lads |   | Glenn Rounds | Dick  Bussey | Harry Huffman | E. C. Murphy | Eugene |
| 1949 | Bellevue, WA | Queen City Four |   | J. Zwirn | T.  Westbrook | P. Brown | E. Brown | Seattle |
| 1948 |   | Mountain Aires |   | Eddie Hotten | Mel  Olene | Tom Hansen | Allen Cornwell | Mount Rainer Chapter, Enumclaw, WA |